Certification in TESOL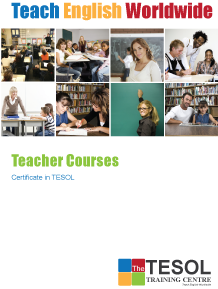 Introduction
The Certificate in TESOL is an introductory course for people who have little or no previous experience of English language teaching. It develops greater knowledge and awareness of language systems. It develops skills of reflection and planning. The lectures focus on language awareness, phonology, language skills and managing learners. The participants are required to complete one written assignment and 4 lesson plans. There is no written examination. Assessment is continuous.
Programme Contents
Lesson planning
Listening skill
Reading Skills
Speaking Skills
Writing Skills
Teaching Vocabulary
Teaching Grammar
Teaching Pronunciation
Managing Learners
Introductory to Educational Psychology
Admission Criteria
To apply for the course, all trainees should meet the following admission criteria:
5 GCE "O" Levels with a credit in English
If you do not fall within any of the above categories and think you are qualified for the course, please submit all your qualifications and a letter explaining why you should be considered. Your application will then be assessed on a case-by-case basis.
Award
Upon successful completion, participants will be awarded with Certificate in TESOL. The Certificate will be awarded by The TESOL Training Centre.